CBD, aka Cannabidiol, is a cannabinoid compound found in hemp.
Most people have heard of hemp but do not realise that hemp is cannabis!
The official name of hemp is Cannabis Sativa and it's an amazing plant.
We can make clothes and rope from it. In hempcrete, we can use it as an environmentally friendly form of concrete, and it is used in the car industry to make inner panels for car doors.
It provides us with highly nutritious oil we can drink or add to cooking and delicious, protein-packed seeds, makes finer paper than that made from wood pulp, absorbs more CO2 faster than trees with a new crop being planted every 12 weeks, and cleans our soil and air of pollution!
It truly is an astounding plant that humanity should be harnessing for the good of us all.
Of course, at the moment and for a long time to come all the talk is of CBD and the other cannabinoids in hemp, such as CBG, which have interesting and very positive effects on our body.
CBD influences our endocannabinoid system (ECS) which is important for homeostasis, which is the mechanism used by our body to maintain healthy function no matter what we are doing or what our external environment is demanding from us.
An example of this is that it would make us sweat to keep us cool when it is hot, or it can increase our blood pressure when we stand up from sitting so that blood will still get to our brain. The ECS balances our healthy functions and CBD appears to encourage this balancing process to work effectively.
Is It Safe To Give CBD Oil To Dogs?
There is very little research around the use of cannabis and dogs and much of it that does exist focuses on the potentially toxic effects of using "full cannabis" with dogs.
By "full cannabis" I mean the type that contains THC at levels that make it psychoactive. In other words, the kind of cannabis that gets humans high.
There is some concern that this form of cannabis may be harmful to dogs and there were two incidents of dogs eating baked goods containing cannabis and butter that caused two deaths in Colorado.
It was also reported that as cannabis use grew in Colorado so did a similar pattern of reports of dogs having eaten cannabis which had toxic effects.
For this reason, I would not advise anyone to give their dog full cannabis extracts that contain high levels of THC.
BUYERS GUIDE
Receive a digital copy of our "CBD first time buyers guide" when you sign up to our mailing list:
[activecampaign form=1]
Unfortunately, information is lacking, but is becoming more readily available as more research is done.
We do know that dogs appear to have more ECS receptors in their brain and nervous system than humans do. Are there implications for this? Probably, but we do need more research to gain a greater understanding of what this might mean.
The receptors in the ECS are called CB1 and CB2 and they are present in various places in dogs, much as they are in humans.
These receptors are influenced by, and interact with, CBD and the other cannabinoids like CBG that we ingest when we use a full spectrum plant extract.
CB1 receptors are found in dogs in their digestive system, their lungs, muscles, reproductive system, vascular system and brain.
CB2 receptors are found in a dog's skin, spleen (which is important for the immune system to function effectively), lungs, bones and even in glial cells.
Glial cells are in the nervous system and are very important in the effective function of homeostasis.
We also find CB1 and CB2 receptors together in bone marrow, the liver, pancreas, gall bladder and brain stem.
Given that there is such a widespread occurrence of these receptors throughout both a dog's and human's body what can we infer from this?
Firstly this can be where people think CBD products are too good to be true because they appear to help so many people with all manner of problems.
I'm pleased to say that it is not too good to be true, but that is only the case if you buy a high-quality product.
Secondly, it certainly points to the simple fact that using CBD may have a widespread effect on many areas of both our and our dog's wellbeing.
We also know that CBD does not appear to have the toxic effects that may occur when using THC, but I have seen evidence that suggests animals can be very sensitive to CBD meaning any recommended CBD dosage is likely to be lower than advised for humans.
Is It Legal To Use CBD Oil For Dogs?
The Veterinary Medicines Directorate (VMD) considers CBD to be a medicine.
They do this because it fulfils the following criteria in the Veterinary Medicines Regulations:
"any substance or combination of substances that may be used in, or administered to, animals with a view either to restoring, correcting or modifying physiological functions by exerting a pharmacological, immunological or metabolic action or to making a medical diagnosis."
CBD is currently classed as a medicinal substance in the UK for both humans and animals.
With the classification of CBD for animals as medicine, there is a long process required to get a medical licence. This licence is not available for CBD, aside from prescriptions, meaning any CBD product you come across that is labelled for pets or animals is actually breaking the law. The Veterinary Medicines Regulations states that:
"No person may advertise a veterinary medicinal product that –

(a) is available on veterinary prescription only.

(b) contains psychotropic drugs or narcotics."
Vets are allowed to prescribe legal 'human' CBD as part of their protocols but they consider administering unauthorised CBD an offence under the Veterinary Medicines Regulations.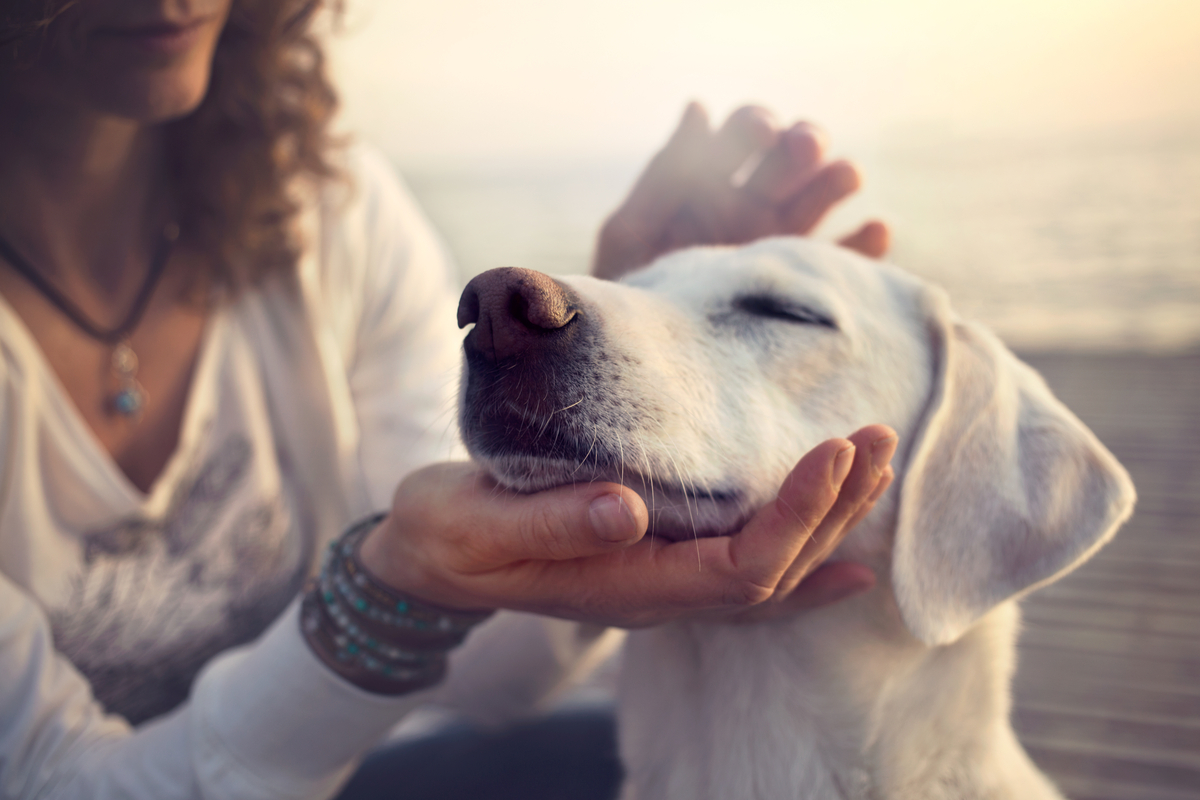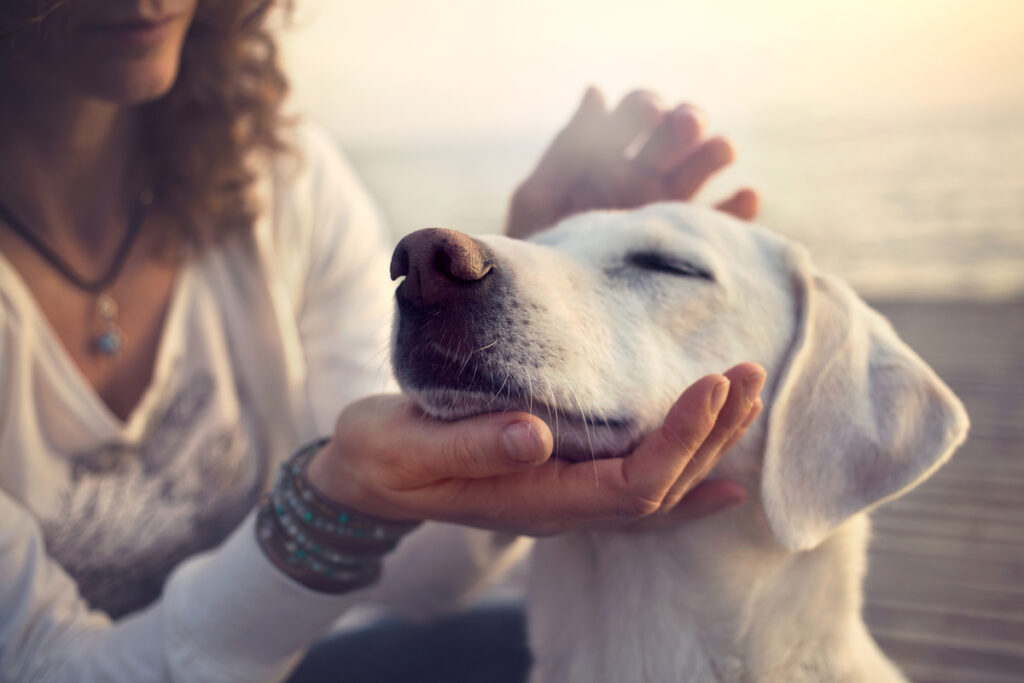 The Veterinary Medicines Directorate, an Executive Agency of the Department of Environment, Food and Rural Affairs, released a statement in 2018 to this effect:
"CBD products for use in animals therefore now require a marketing authorisation before they can be sold or supplied in the UK. There are currently no CBD based products that have been granted a UK veterinary marketing authorisation."
In practice, you can speak to your vet and they may be interested in trying CBD with your dog. CBD can only be given to animals if it has been prescribed. You could be prosecuted for giving your dog CBD without the permission of a veterinarian.
If you want to speak to your vet about potentially using CBD for your dog, the Government has published its own blog post about the subject:
"under the provisions of the veterinary medicines prescribing cascade your vet may be able to prescribe a legally obtained human CBD product, so if you are considering treating your pet with a CBD product, speak to your vet first."
If you are considering the usefulness of CBD for your dog, or another pet, speak to your veterinarian before making a decision or a purchase. This is to ensure that you are making a safe, informed, and legal decision.