Cycling is one of the fastest-growing sports in the UK. With more and more people heading out on the road for long distance routes, the number of cycling injuries are also on the rise. Cycling injuries vary in type and severity. While some might keep you out of the saddle for a few days, others might prevent you from getting on a bike for months on end. If you're curious to learn more about the most common cycling injuries and how you can prevent them, read on.
What are the most common cycling injuries?
Cycling is a physically demanding sport that puts strains on many different parts of the body. 
It is very taxing on your legs, knees and feet, which is why it's not uncommon for injuries to affect these areas.

Since cycling forces you to lean forward on to your arms, it's also taxing on your hands, arms, shoulders and neck. 

Sitting on a hard saddle for long periods of time can also cause saddle sores while lycra clothing can also be responsible for chafing. 

And finally, riding on roads comes with a high risk of falling or being hit by another road user. 
Despite these risks, many people still take to the roads every year for their favourite hobby. If you suffer from a cycling injury, you should always seek the advice of a professional before getting back on your bike. In the meantime, you can try low impact exercises like yoga to keep your fitness levels in order. You can also support your healthy lifestyle with food supplements like CBD oil/cannabidiol. This supports the endocannabinoid system which is responsible for the balance of a variety of things in the body.
Prevention is often the best solution for cycling problems, but first, we need to understand the unique risks prevented by cycling before we can determine how we can prevent them. While cycling is a great form of cardio and will give you an all-over workout, it can also be very taxing on your body. These are just some of the injuries you might experience while on a bike.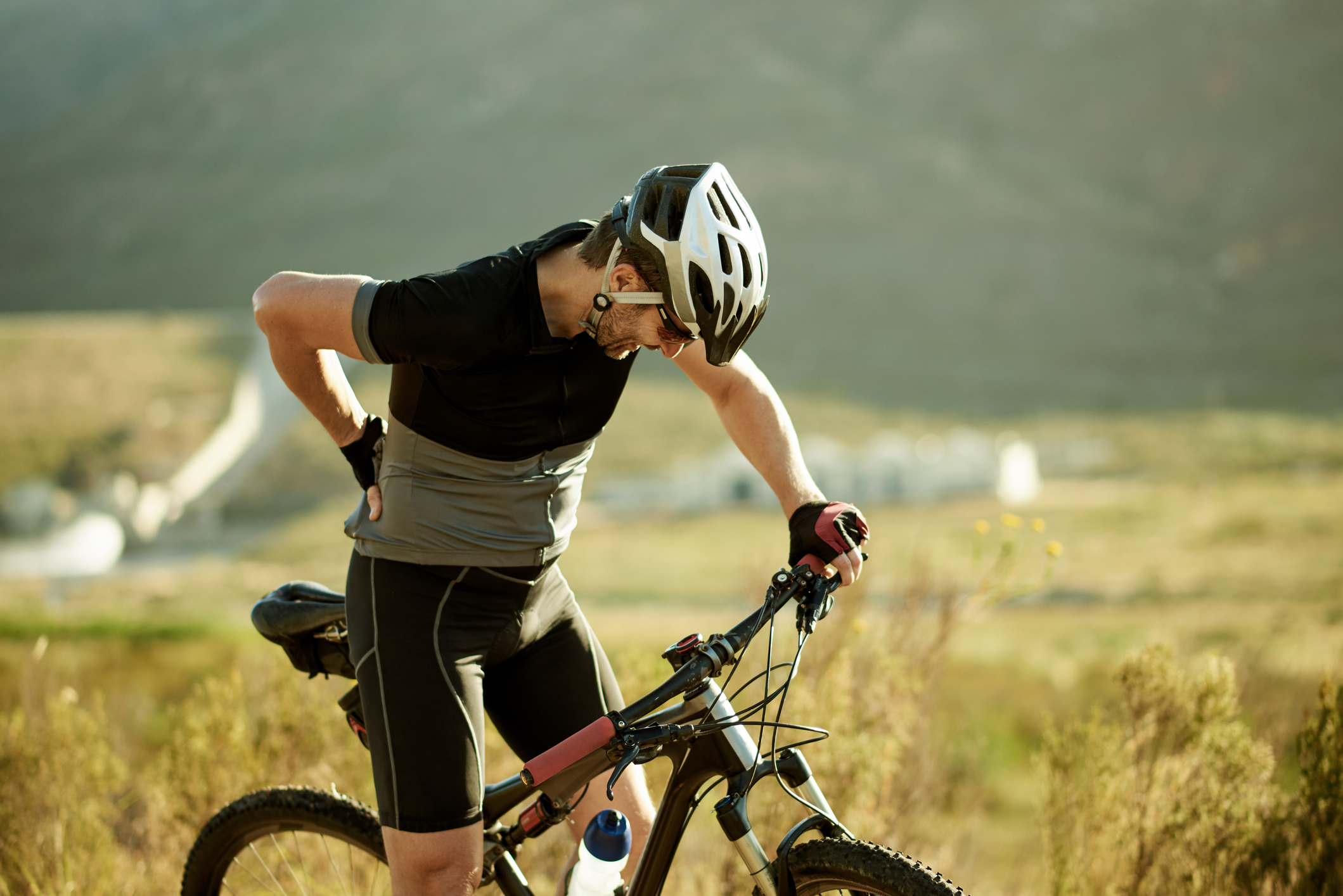 How can you prevent back injuries while cycling?
Cycling puts your body into an unnatural position for long periods of time. When you spend a long period of time in any position, it will put stress on your joints and muscles and this can lead to pain which lasts long after you get off your bike. When cycling, you will most often be leaning forward on your arms, so it's important to engage your arm and shoulder muscles to prevent you from pushing your shoulders out and back. You should also make sure that your bike frame fits your body. If the frame is too large or small, it will cause problems in your lower back and shoulders.
How can you prevent soft tissue injuries when cycling?
Muscle fatigue and cramps are some of the biggest problems which cyclists face. This might include calf muscle cramps or even foot numbness. To counteract this, make sure that your shoes are well fitted. If your shoes are too small, you are more likely to suffer from numb feet. It's also important for you to build up your time on your bike gradually. Even if you are in good physical shape, you still need to build up your time in steady increments. Before you get on your bike, you should always stretch to prevent stiffness. In between cycling workouts, you should also make an effort to lengthen your muscles by stretching or through yoga routines.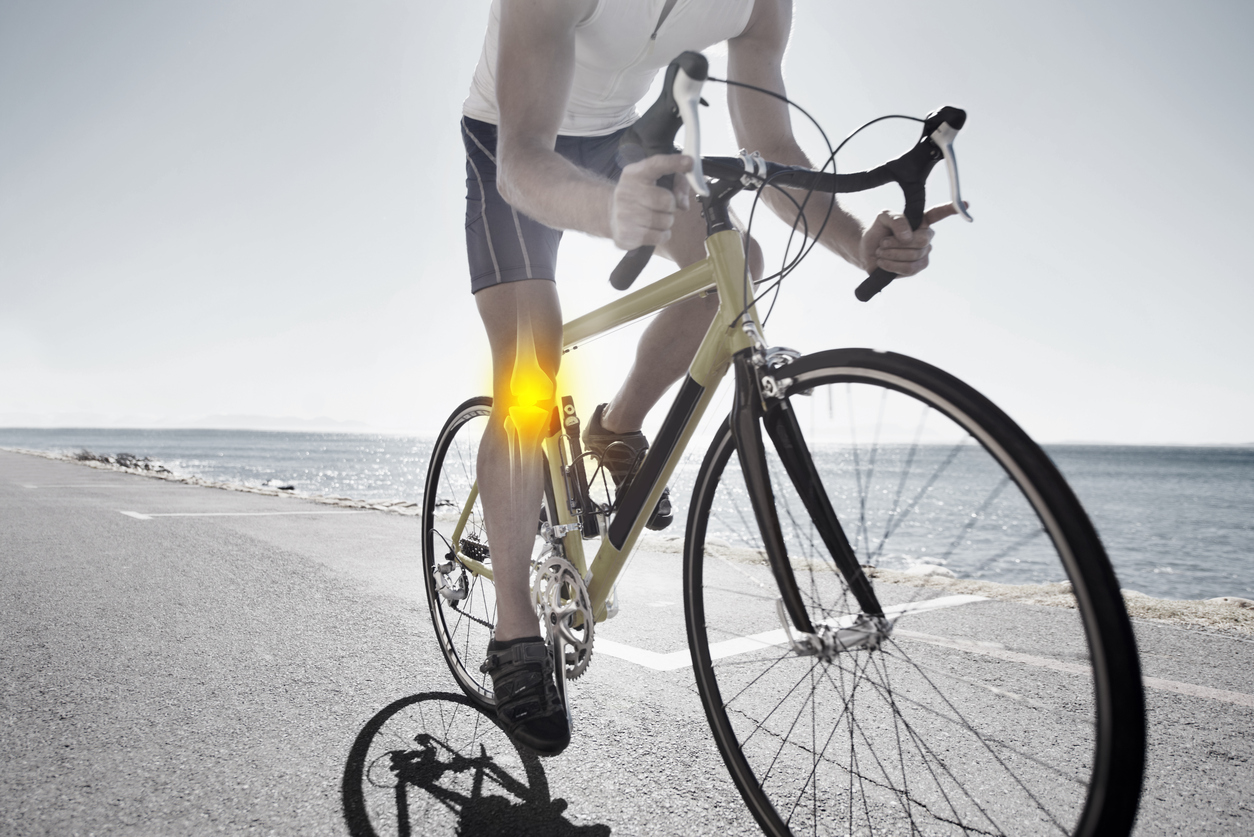 How can you prevent knee problems when cycling?
If you suffer from knee problems, you may need to leave more time between long cycles. In order to have more power in your pedal, many cyclists use cleats to clip on to their pedals. If positioned incorrectly, you could end up with a sharp pain in your knee every time you cycle. Before switching to cycling cleats, always get advice from a professional to make sure they are properly positioned for your anatomy. It's also important to pay attention to aches and pains in your body and respond accordingly. 
How can you prevent road accidents when cycling?
While it might be impossible to prevent accidents, there are steps you can take to reduce the likelihood of an accident and to reduce the impact, if the worst should happen. Make sure you always wear a helmet when cycling on roads and use bike lights at night. You should also wear bright and reflective clothing to make sure you can be seen by other road users. Try to cycle with a group of people so you aren't on the road on your own. If you get injured while out on a ride, always stop and seek help rather than trying to keep going. Cycling with an injury could cause lasting damage.
So we hope you found this useful. If you have any health-related question, we will be happy to answer these for free. Just drop our fully registered Osteopath, Nick, a message.