In my work as an osteopath I am often asked if CBD will help for all manner of problems, including whether or not you can use CBD oil for nerve pain.
There is a simple answer to this kind of question.
Firstly it is a very safe option so comes with virtually no risk.
If you compare this to the fact that for every thousand users of anti-inflammatory drugs, three will have heart attacks and one of those will be fatal you can see that the option of trying CBD oil for pain becomes very attractive.
Having established that it is safe the second issue is will CBD oil for nerve pain work? Again, there is a simple answer which is that it is worth a try. Why? Because it is such a low risk strategy that you may get some gains whilst having no risk attached. This is most definitely not the case for the drugs a doctor prescribes which come with a leaflet that outlines a long list of possible side effects.
Perhaps we should look in more detail at what CBD oil is and the properties that may be of use to you.
What Is CBD Oil?
CBD is a compound from the cannabis plant called Cannabidiol.
It is a cannabinoid, of which there are many in the cannabis plant. Cannabinoids have intriguing properties when we ingest them. The most common effect we know is why most people take cannabis: to get high or stoned.
Getting high and getting stoned are two different effects from different strains of the cannabis plant which have varying proportions of cannabinoids in them. The cannabinoid that gets you high/stoned is tetrahydrocannabinol (THC).
THC is a controlled substance in the UK, therefore, we have to ensure our products contain only trace THC, so little THC that it cannot give you a psychoactive high. This also means you may drive having used our products and it will not show up in doping tests.
So the two big cannabinoids are THC (illegal) and CBD (legal when manufactured correctly) but there are others that are important too such as CBG, CBN and CBDa. When these cannabinoids all come together in an extract of cannabis they interact well together, much like a sports team, each cannabinoid has a part to play in having an effect but the star player is CBD, however, without all the supporting players, CBD cannot do the most effective job on its own! This is known as the entourage effect.
Unfortunately there are lots of low grade products out there that may have some CBD but have precious little else in them and so they are either a complete waste of money or do not work very well at all.
So, when you buy your CBD make sure you look for a full spectrum plant extract. This means it should have the entourage effect. Sadly, many unscrupulous sellers tell you it has this effect when it does not so the issue is how can you tell a good CBD from a bad one? Check this blog post about using CBD oil for anxiety where I explain how you can spot good CBD from bad.

Is CBD Oil Effective For Nerve Pain?
If you look online at various forums and social media you will see a lot of people talking about how CBD has helped them. However, there are not enough really good pieces of research for us to be able to say with confidence what CBD can do in this area.
However, if we look at the commonly used opiate based drugs we can get from our doctors they come with a myriad of problems such as nausea, vomiting, constipation, pruritus, dizziness, dry mouth and sedation. These side effects are extremely common with opioid therapy.
I have even seen a patient have back pain, take opiate drugs from her doctor, get constipation, then strain so hard trying to have a bowel movement that it has caused a full disc prolapse in her back and she has needed surgery!
Yet I have never seen such an example with anyone taking CBD oil for nerve pain. Therefore, the basic fall back rule is that because it is safe it is worth a try.
How Does CBD Work To Combat Nerve Pain?
Recent discoveries have found cannabinoid receptors in the pain pathways of your central nervous system and peripheral nervous system.
There are even receptors in your sensory nerves, these are the nerves that send sensations to your brain so it would appear your endocannabinoid system may have a role to play in moderating pain.
Scientists have found that cannabis works to modulate pain in your nervous system but also through other tissues via an ability to influence the inflammatory response.
It is important to note that acute inflammation is a healing response and is best left to do its job. Acute inflammation typically occurs with a trauma of some kind such as an ankle sprain. This kind of injury does not need anti-inflammatory medication because it is healing you. It causes pain to prevent further damage whilst repair goes on.
However, there is a serious worldwide health problem being caused by chronic inflammation. This is mainly caused by our poor diet, high in the wrong types of fats, grains and processed foods.
Cannabis extracts such as CBD may well have a profound role in helping to clear this from your body. Chronic inflammation is responsible for a wide range of diseases such as heart disease, digestive problems, some autoimmune diseases and arthritis.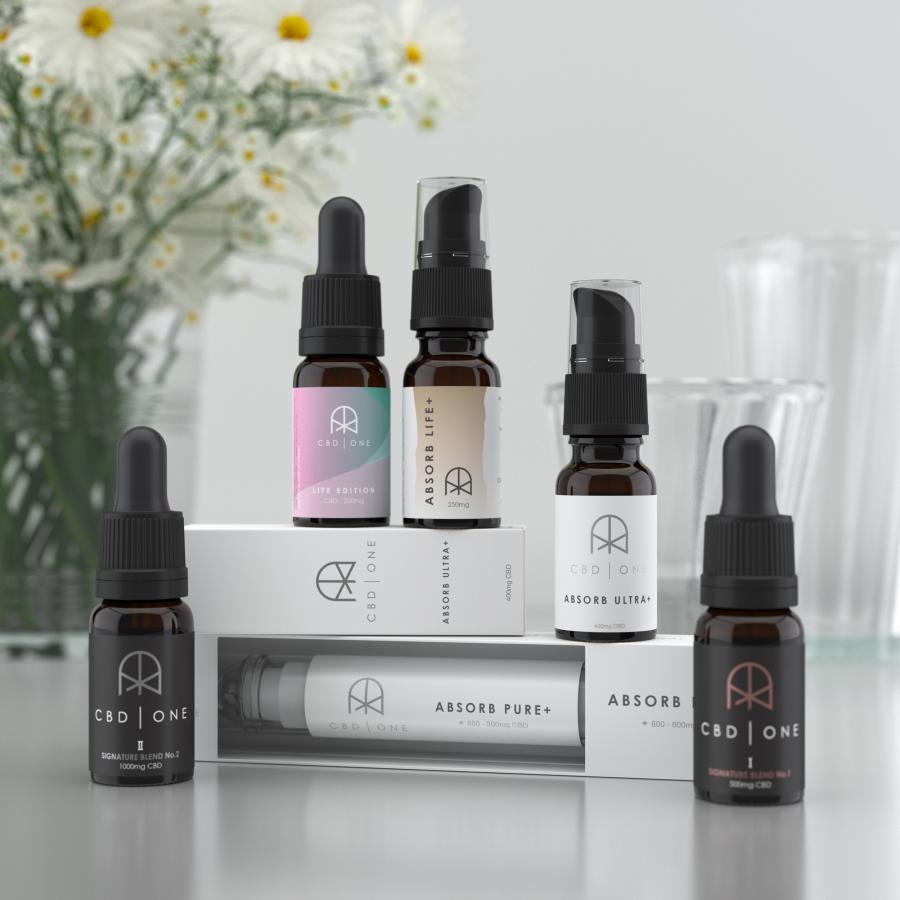 What Type Of CBD Is Best For Nerve Pain?
You will get the best results by taking CBD orally, but avoid taking gummies or capsules because they are an expensive way of flushing CBD down the toilet. Until this technology improves (we are working on that at CBD One) do not use these products. Approximately 3% of what you eat goes into your body.
We find our oils are more calming for most people whilst our Absorb range is more energising.
The oils are taken by placing one to three drops under the tongue, let them sit there for a couple of minutes then swallow. They have an interesting earthy, spicy and citrusy taste which some people love (I do!) and others do not like. One thing I must say is that, having tasted many different CBD oils our products have a far more interesting taste and far less offensive. Some low grade products leave an awful aftertaste or taste rancid.
People tend to take the oil two or three times a day. However, our Absorb range is designed to be taken in a hot or cold drink and for most people, most of the time, one shot a day does the job. Because they get in your system fast and are 100% bioavailable we tend to see a more energising effect from these whilst the oils are a little more calming though this is a very general rule.
I tend to advise people to start with a middle strength product though there is nothing wrong with starting low and working upwards either. However, my reasoning is that if you start too low and nothing happens the temptation is to think that CBD does not work for you when it may only have needed a stronger product to make a difference.
The optimum starting point is to try either our Signature Blend No2 or Absorb Pure which both give you plenty of cannabinoids to get you going.
Quite a few people opt for both of the above and take the Absorb Pure in the morning then take the oils later in the day, which is why we have bundles that give you a discount if you decide to do that.
Does CBD Cream Help Nerve Pain?
Our topical CBD cream was manufactured by cosmetic specialists and has ten different herbs in it as well as full spectrum CBD, however, whilst some people do feel it helps their aches and pains when applied to the area of pain, in general this is an inefficient way to get any sort of effect.
The Complete body and face lotion is really lovely to use and a little goes a long way and perhaps in conjunction with an oral product you may get a useful combination of effects but aside from that save the cream for nourishing your skin.