CBD has continued to grow in popularity in recent years, with one survey finding that 44% of Europeans knew friends or family members using CBD.
While the number of users has continued to increase, we know that CBD oil isn't right for everyone.
Some of our customers don't like using CBD oils, a few drops of which have to be held under the tongue for a few minutes, while others simply don't like the taste that the oil leaves in their mouths.
If you're one of these people, you might have wondered whether you can add your CBD to your morning coffee.
Unfortunately, it's not a simple case of adding a few drops of oil to your morning brew, but there are a couple of different things you can try.
Here's how to make CBD coffee.
First Of All, What Is CBD?
For the uninitiated, CBD, or Cannabidiol, is one of over a hundred cannabinoid compounds found in the cannabis sativa plant - or "Hemp" plant, as it's also known.
These compounds interact with the endocannabinoid system - a network of receptors and pathways that are found throughout the body's central and peripheral nervous systems.
As it's a relatively recent discovery, research is still ongoing into the endocannabinoid system and its impacts on the body, but it's thought that it helps the body with homeostasis which is the body's ability to maintain itself regardless of external conditions and factors.
Because CBD, and the other cannabinoid compounds, do not form part of our regular diets, CBD can be supplemented in much the same way as a multivitamin in order to give the body everything it needs to function at its peak.
Can I Put My CBD Oil In My Coffee?
Many people assume that CBD coffee is simply a regular coffee with a few drops of CBD oil added in, however, this is not the case.
First and foremost, oil and water do not mix, so adding CBD oil to coffee, or any drink for that matter, will simply result in the oil floating on the top of the liquid.
The second, and arguably more important factor, is that CBD oil is made to be taken sublingually - that means it's made to be held under the tongue in order for the body to absorb the compounds through the blood vessels in your mouth.
Simply adding CBD oil to a drink means that most of the oil ingested is actually destroyed by the body before it reaches the bloodstream, making it a very inefficient way of taking CBD.
What Are The Benefits Of CBD Coffee?
One of the main benefits of drinking CBD coffee is that it's perfect for those who aren't keen on the taste of CBD oil.
While many people learn to love the taste of their CBD Oil, it is an acquired taste, so being able to add a healthy dose of CBD to your morning coffee is a great alternative.
The second benefit is that the body is able to process much more of the CBD when it's ingested, which means more CBD gets into your bloodstream.
If we imagine a 10mg dose of CBD, a CBD oil held under the tongue will allow around 12% of that into the body as usable CBD - around 1.2mg of CBD.
Compare that with something like Absorb Ultra+, which has a bioavailability of 99%, meaning that the body can use 9.9mg from the same 10mg dose, and you can see why drinking CBD coffee is a much more efficient way of taking CBD.
How To Make CBD Coffee
There are now a handful of products that have been specifically formulated to be absorbed in the stomach, making them much more effective for those looking to add CBD to a drink.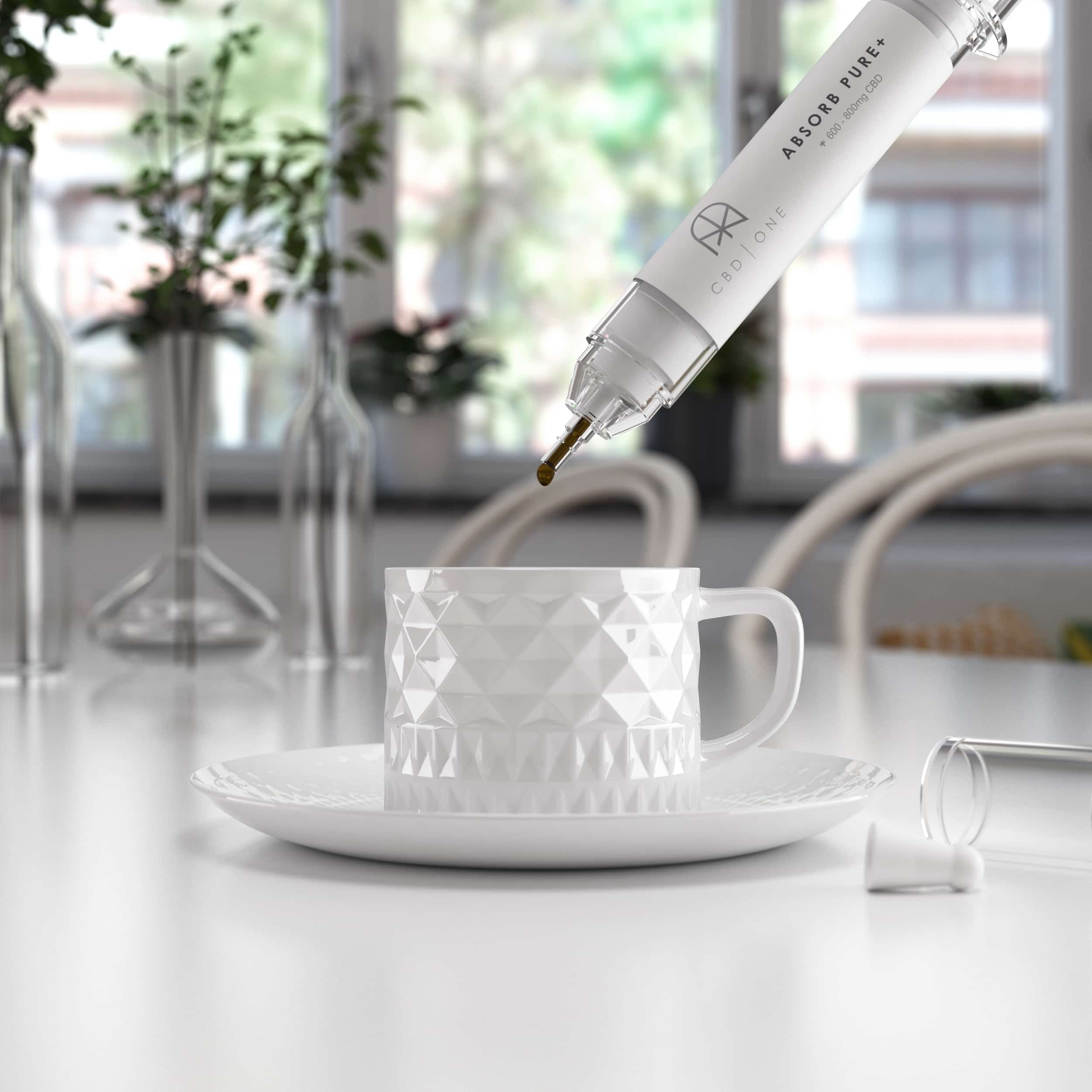 Making CBD Coffee With Water Soluble CBD
The first and most effective way to add CBD to a drink is with a water-soluble CBD like those in our Absorb range mentioned above.
Making a CBD coffee with our Absorb range couldn't be simpler:
Step 1
Add one pump of Absorb to your cup. If you add the Absorb to the drink it's more likely to splash and make a mess!
Step 2
Make your coffee on top of the CBD shot as you normally would - whether it's instant or freshly ground, black or white, or you take it with or without sugar - there's no need for any special measures.
(If you're looking for a healthy coffee that tastes just like your Barista made it, our friends at Balance Coffee have a fantastic range to choose from!)
Step 3
Stir & Enjoy!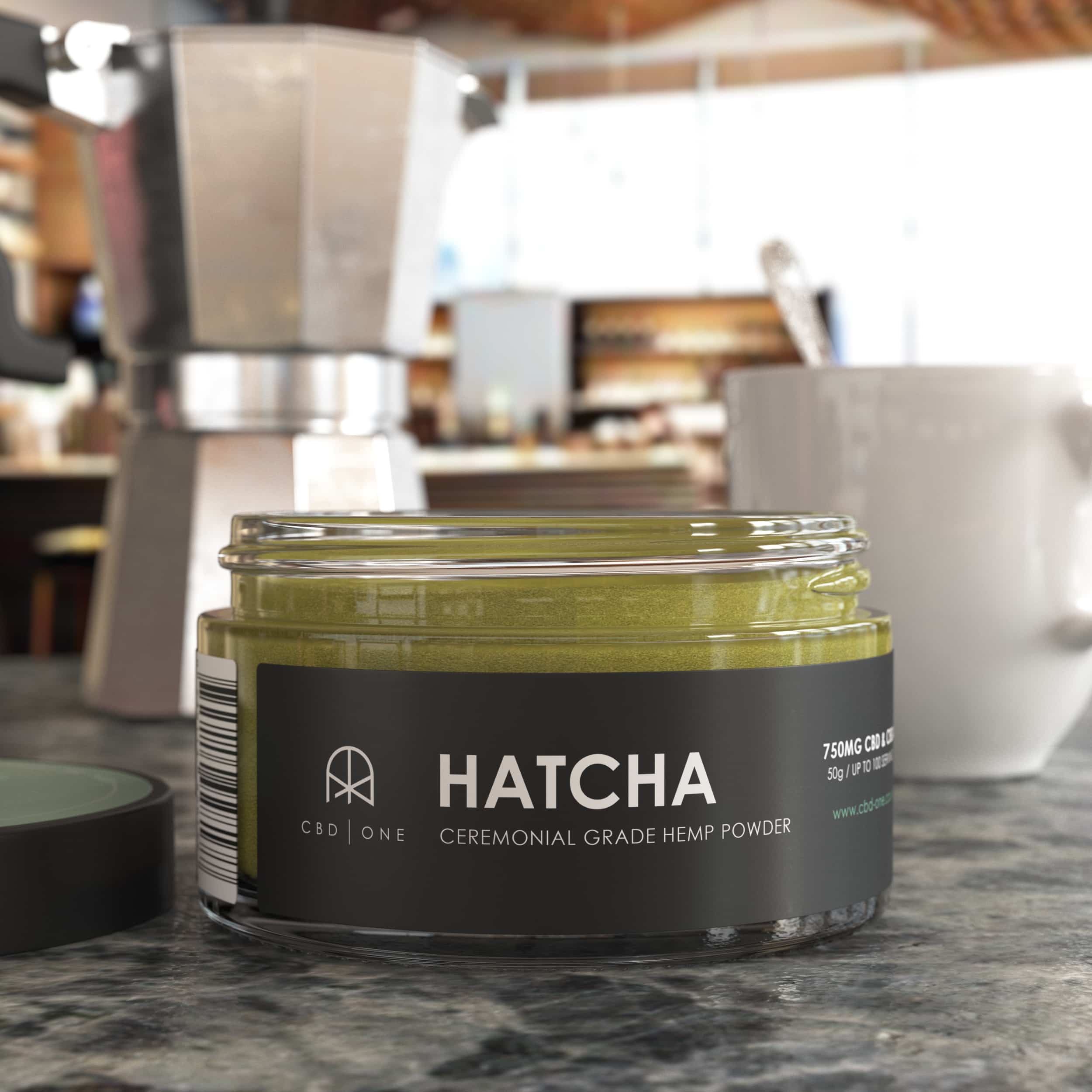 Making CBD Coffee With Hemp Powder
The second option for creating your CBD coffee is to use a hemp powder like Hatcha.
Hatcha is a finely milled powder made from the Hemp plant that can be used in the same way as Matcha - for everything from CBD Tea and coffee to baking and smoothies.
Here's how to make a simple Hatcha latte:
Step 1
Add a teaspoon of Hatcha to your cup and a splash of warm water. Mix together to form a smooth paste.
Step 2
Heat your milk in a saucepan and pour into the mug until almost full. For an Iced Hatcha Latte, use cold milk instead.
Step 3
Mix the Hatcha paste and milk together thoroughly and enjoy!
If you prefer something a little sweeter, why not try out our Hatcha Mocha recipe?
The Bottom Line
Making a CBD Coffee can actually be a much more effective way of taking CBD, provided you're not just adding some oil drops to your cup before drinking.
The Absorb range are some of our most popular products, and given the flexibility they offer users we can understand why.
If you're getting tired of using CBD oil, swapping to Absorb Pure+ will let you add your daily dose of CBD to your favourite drink, which makes it much easier to take on a regular basis.