If you work a desk job, you'll know how uncomfortable this can be after a while. Staring at a screen all day not only has an impact on your eyes, but it can also put a strain on your whole body. If you're sitting at a desk for upwards of 6 hours a day, you might be interested in learning ways to reduce the strain on your body.
In this article, we'll share some of the best tips for sitting at your computer all day. From the set up of your desk to your behaviour throughout the day, there are many things you can do to lessen the strain on your body and your eyes. Read on to find out how you can keep yourself healthy while working at a computer.
1. Find a comfy chair
Your chair should be supportive and have armrests. The back of the chair needs to conform to the curves of your back, offering support to the lumbar region in particular. It also helps to have a headrest so that you can lean back and support your head. If your chair is height adjustable, you should make sure that your legs are comfortable and that you can sit with your feet flat on the floor. Crossing your legs at the thigh or ankle will create instability in your spine that the rest of your body will have to compensate for. 
2. Put your monitor at eye-level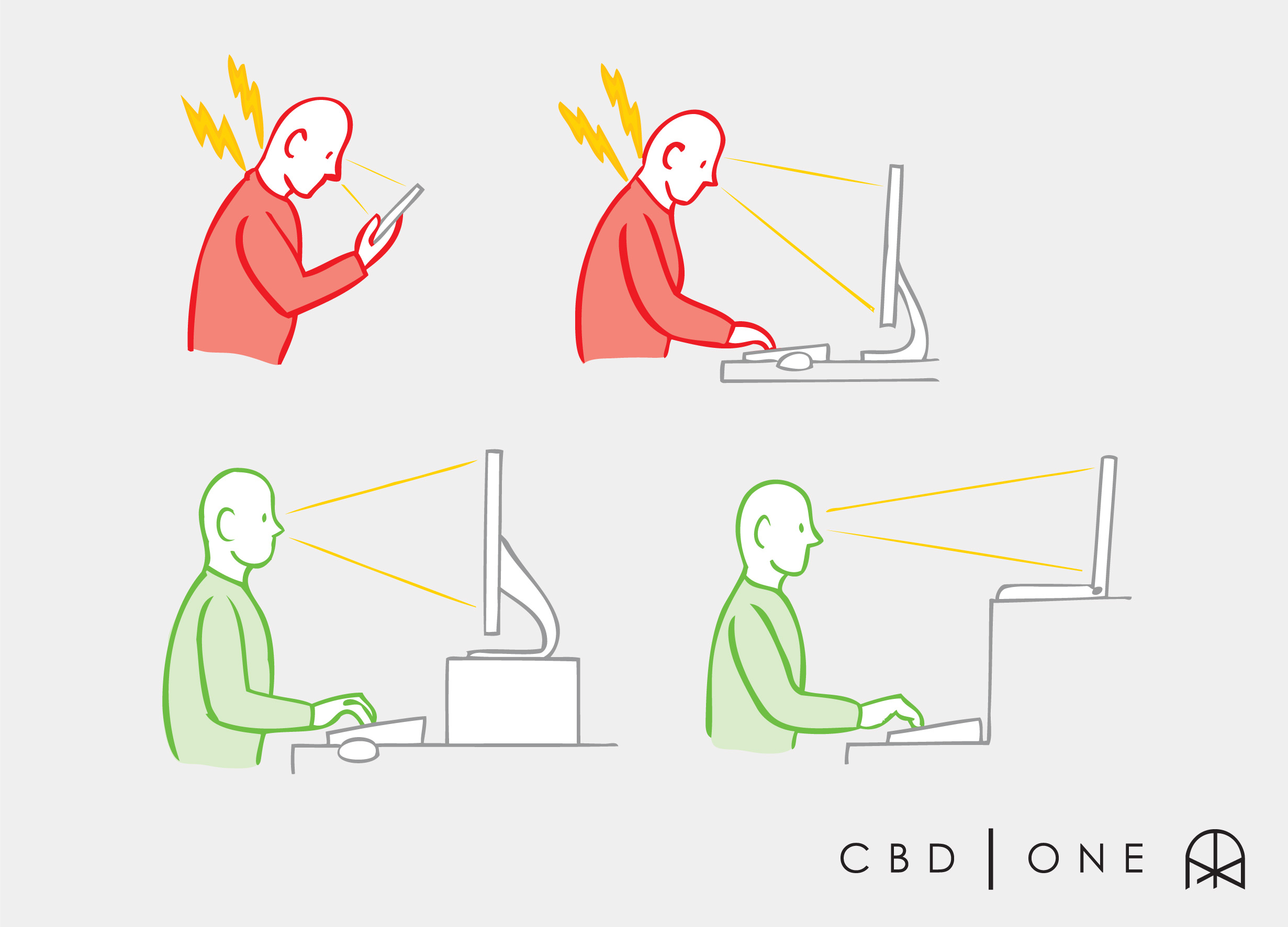 Looking down at your monitor will not only create an uncomfortable strain in your neck, it can also cause lasting damage to your spine. You may have heard of a condition called "tech neck" which is the result of staring down at our phones. Looking down at your monitor is another cause of neck strain. If you have an external monitor, try raising it up so that you are looking straight ahead. If you have a laptop, you can raise up the screen and then use an external keyboard and mouse.
3. Keep essentials close by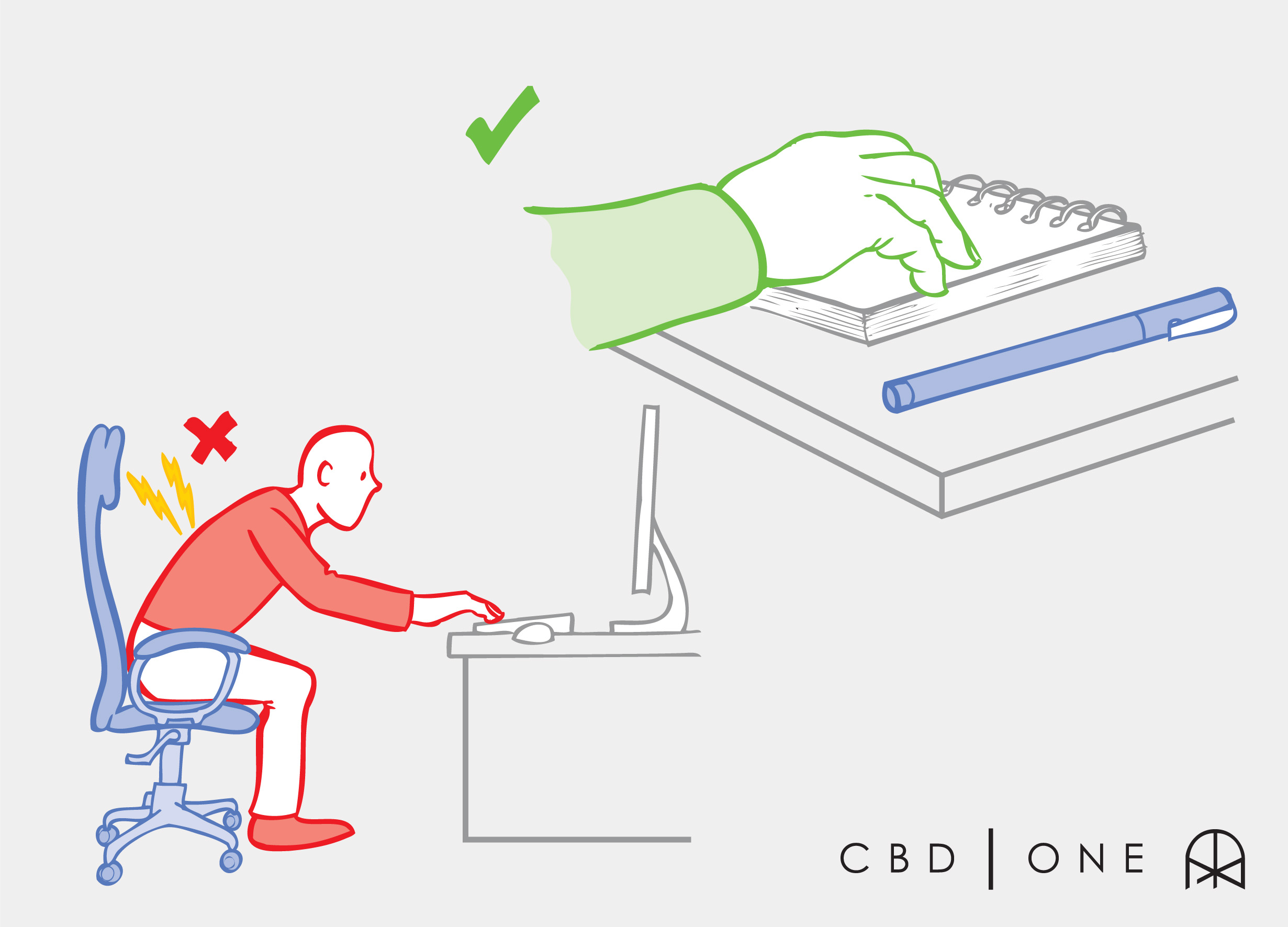 If you have things that you use regularly, such as a notebook and pens, make sure they are within grabbing distance. Leaning over your desk and shifting in your chair will cause added strain which can be easily avoided. Your desk setup should include everything you need close to hand so that you don't have to lean over. If you struggle to reach your laptop keyboard and mouse trackpad when they are at eye-level, then you should use an external keyboard and mouse to make your desk more comfortable.
4. Get some natural light
Your computer screen emits a blue light which can disrupt your sleep patterns. To help combat eye strain, make sure your desk is situated in a place with natural light. While you don't want direct sunlight on your computer screen as this will create unwanted glare, some diffused or indirect light will help to prevent eye strain. Remember to stop using your computer at night time as the blue light can disrupt your sleep. If you have to use your computer at night time, try installing a filter which makes the light warmer at night time and eliminates the blue.
5. Take a break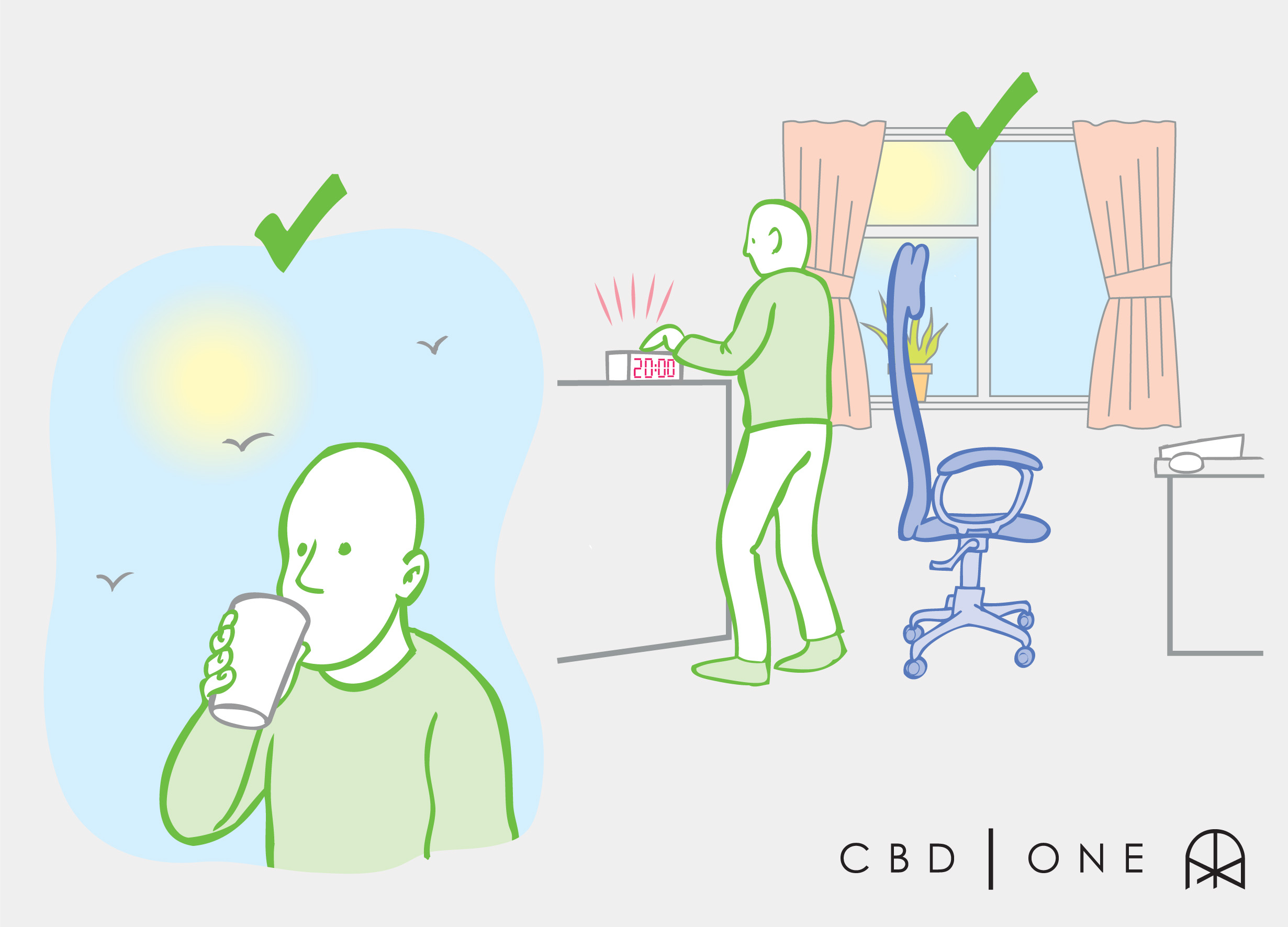 Make sure you stand up every 20 minutes. The act of standing up resets all your muscles and interrupts the strain of sitting. Set an alarm on your phone for 20 minutes and put it out of reach. When the alarm goes off, get up, go over and reset it then sit back down and continue. Build this into your working day. If you have the option, a standing desk can also make a welcome change to your seated desk. Leave your desk periodically to get some fresh air, or even just to make a cup of coffee or tea. Natural supplements such as CBD oil can be a great addition. Combine supplements with a healthy diet and lifestyle to combat stress and help you to wind down. Taking a break from your work can even make you more productive. The human brain can only concentrate for periods of around 30 minutes at a time, so there is little sense in trying to stay on task for any longer. It's far better to take a break from the screen and come back feeling refreshed.
6. Listen to your body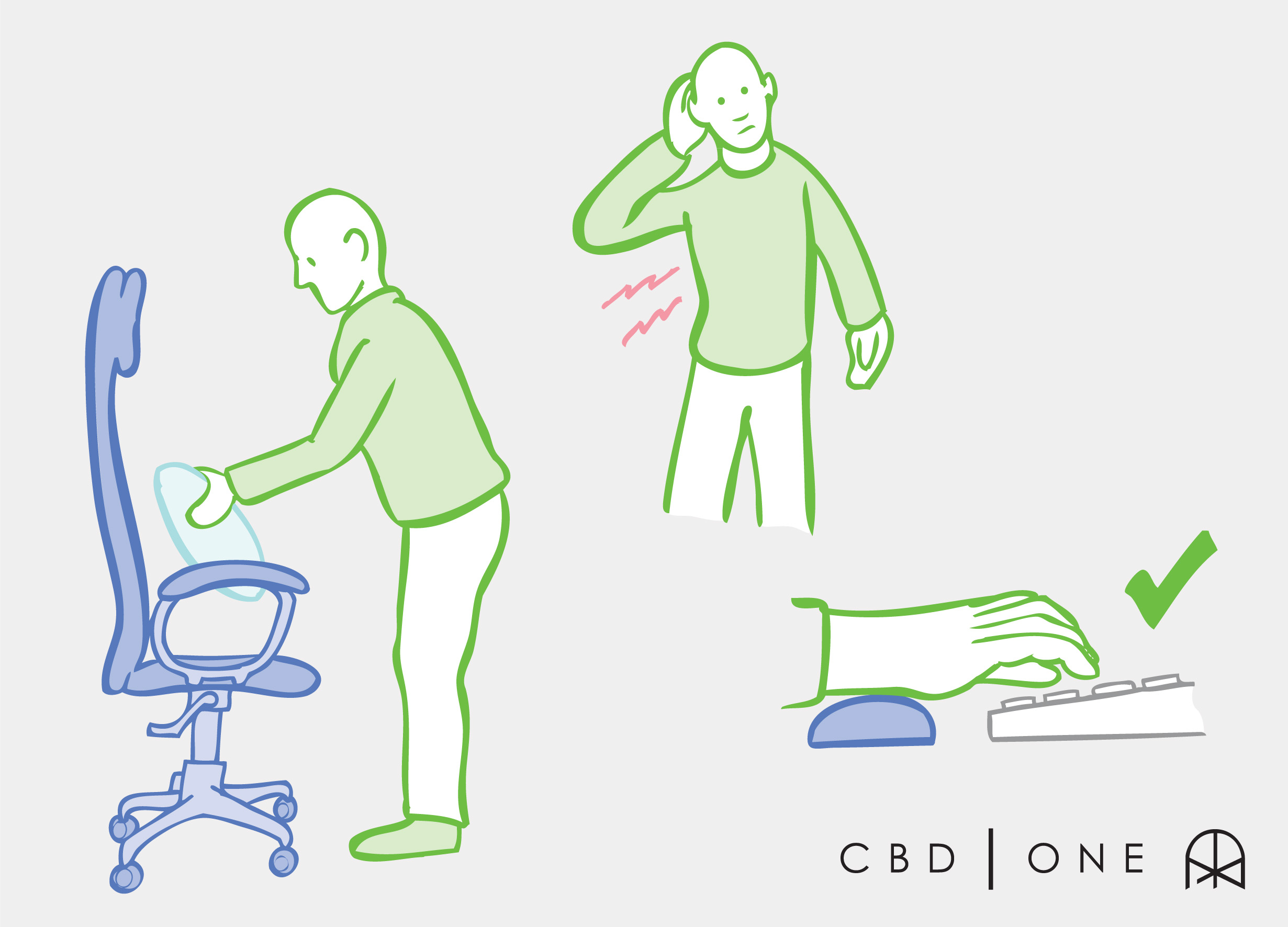 If something isn't working in your desk setup, you need to take a step back and try something else. Sitting in an uncomfortable position all day long will not only make you miserable, but it could also have a lasting impact on your body. Remember to put your health first and don't be afraid to take a stand for your health. A few small adjustments to your desk set up, such as using a wrist support and adding a cushion to the back of your chair can have a huge impact on your comfort levels. Experiment and find out what works for you so that you can feel good about arriving at your desk every morning.
Here at CBD One we offer free health advice. So if this is something that you would like, please contact us here.