CBD oil is a food supplement that is growing in popularity in the UK and around the world, but there are many misconceptions about what CBD oil is and how it's made.
Most CBD oil is derived from a low THC variety of the cannabis plant called cannabis sativa, more commonly known as hemp, which leads some people to believe that it is illegal.
CBD is neither an illegal drug nor a medicine, which is why a lot of work is needed to educate people about what CBD is and how it can be used to support a healthy lifestyle.
CBD is widely available in shops throughout the UK, but the rise of gimmicky, untrustworthy and ineffective products has led some people to be sceptical about its efficacy and legality.
This article will explore the CBD oil UK law, dispel some of the myths about CBD and help you make an informed decision about whether or not to try it.
What Is CBD Oil?
CBD oil is derived from hemp plants which are in the same family as the cannabis plant.
These strains of cannabis contain high levels of CBD and low levels of THC. THC and CBD are both compounds known as cannabinoids.
Oil naturally high in CBD is extracted from the cannabis plant which is then used for a variety of supplements including oral solutions, tablets, vape liquids, creams and beauty products.
Like THC, CBD can interact with the endocannabinoid system. This system is responsible for maintaining balance within the body. The endocannabinoid system is a network of millions of receptor pathways in the body.
These receptors are found in the brain, nervous system, glands, and organs. The body produces its own cannabinoids, which bind to these receptors and help to maintain balance.
CBD oil supports the endocannabinoid system by mimicking the body's own cannabinoids and helping to keep the receptors working properly.
Is CBD Oil Legal In The UK?
In short, yes, CBD supplements are legal in the UK. However, it is important that you purchase these from a reputable source, or it could turn out to be illegal or not what you think it is.
CBD oil is only legal in the UK if it is made from certain approved strains which contain less than 0.2% THC, or tetrahydrocannabinol in the growing plant. THC is the psychoactive compound found in cannabis that is responsible for the "high".
For CBD oil to be legal, the Home Office has also stated that the THC should not be easily separated from the CBD. Both THC and CBD are cannabinoids, and while some cannabinoids are considered to be controlled substances, CBD is not.
CBD Laws & Regulations In the UK
Because CBD isn't intoxicating like THC, it is now legal in many countries, including the UK, provided it's made from an approved strain of industrial hemp that is naturally low in THC (less than 0.2%).
While these rules are fairly straightforward, there is still some confusion around the classification of CBD products, and most on sale in the UK will fall under the Novel Foods regulations.
Novel Food Regulations
In a bid to combat the poor quality products that were flooding the market during CBD's early days, the EU decided to list CBD as a novel food in 2019, with the UK's Food Standards Agency (FSA) announcing that businesses selling CBD in the UK would need to submit a valid application before the 31st of March 2021 to continue selling their products.
After this date, anyone selling or importing CBD products in the UK needs to apply for a Novel Food license, which dictates that novel food products must:
Be safe for human consumption

Not mislead consumers about their health effects

Be sold with warning labels regarding any possible risks associated with ingestion

Be compliant with a set of general provisions in the law
The FSA decide whether or not to grant these licenses, so anyone selling CBD in the UK should be registered and able to show you that they've completed an application and are compliant.
The FSA helps to maintain the standards we've come to expect with all food items, and are there to make sure that all CBD products are:
Manufactured in a facility that is registered with the EU Food Safety Authority (EFSA)

Go through regular inspection

Do not contain THC or illegal/harmful ingredients, such as pesticides, heavy metals, or bacteria

Are free from allergens

Will not cause any damage to the environment if people flush it down the toilet
Cannabis oil, which contains high levels of THC, is still illegal in the UK. This means you cannot buy or possess it, resulting in a prison sentence.
However, it is possible to get a medical cannabis prescription in the UK for certain conditions. This must be done through the NHS and is only available for a very small number of people.
The CBD laws in the UK are constantly evolving as the industry grows, and it's important to stay up-to-date with the latest regulations.
What CBD Products Are Legal in the UK?
As long as a CBD product meets the above criteria, it is legal in the UK. This includes CBD oils, CBD oil tinctures, capsules, gummies, and topical products like creams and balms.
However, it's important to remember that not all CBD products are created equal. In order for a product to be effective, it needs to contain a high-quality, pure CBD extract.
Many products on the market today contain low-quality, impure CBD that has been extracted using harsh chemicals or cheap methods that don't preserve the beneficial cannabinoids and terpenes found in the hemp plant.
Look for a product that is:
Full spectrum

: This means that the product contains CBD as well as other beneficial cannabinoids and terpenes found in the hemp plant. Full spectrum CBD is more effective than CBD isolate because the different compounds work together to create a synergistic effect.

Broad spectrum

: This means that the product contains CBD as well as other beneficial cannabinoids, but all traces of THC have been removed. Broad spectrum CBD formulas are a good option for people who want the benefits of full-spectrum CBD without any trace of THC.

CBD isolate

: This means that the product contains only CBD, with all other compounds removed. CBD isolate is a good option for people who want to avoid THC altogether.
When shopping for CBD products, always look for CBD companies that use third-party lab testing to ensure that their products are pure, potent, and free from harmful contaminants.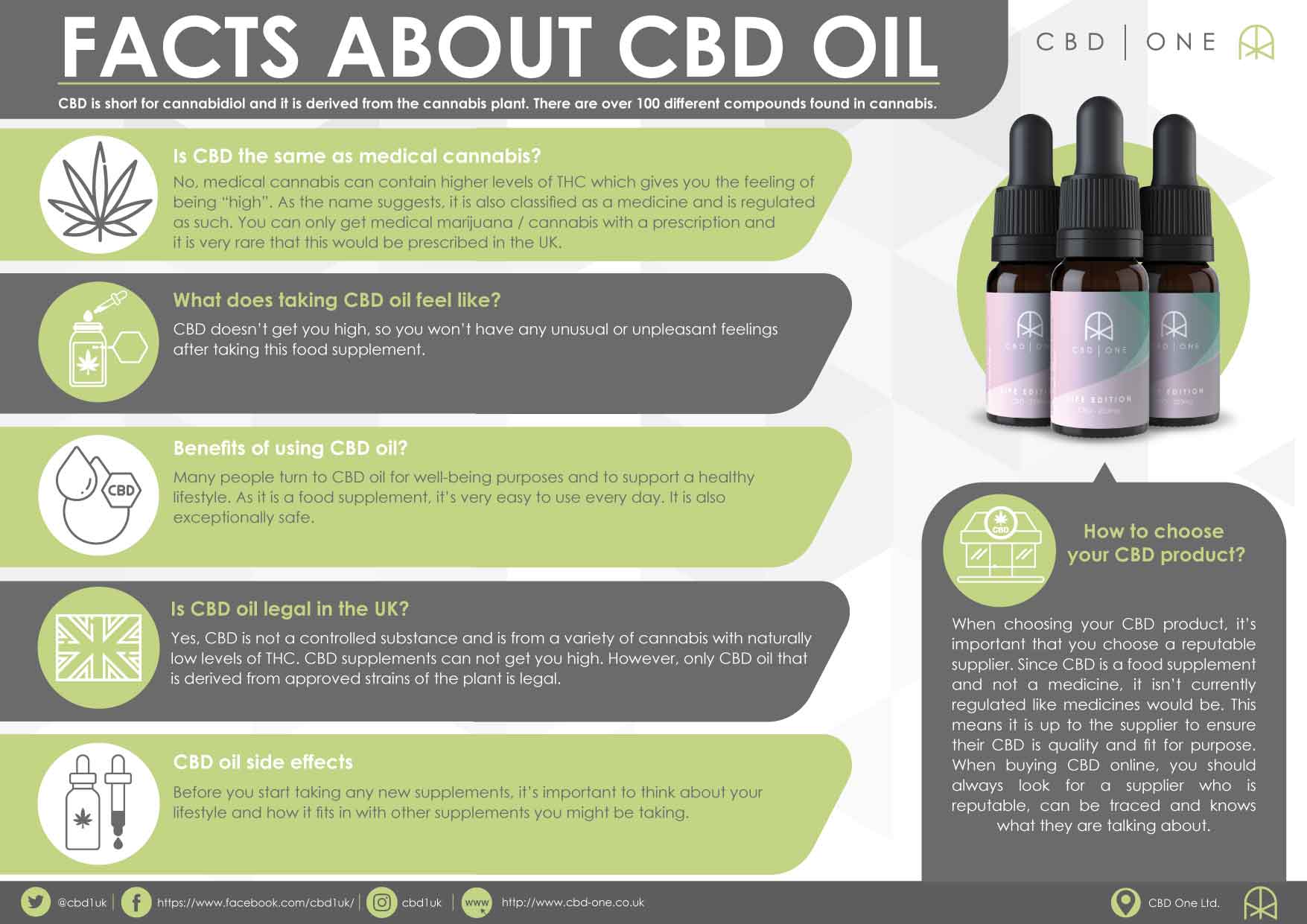 Is CBD The Same As Medical Cannabis?
CBD supplements are different to a lot of medicinal cannabis products. Some of these (i.e. Sativex) contain higher levels of THC and have been through clinical trials. THC is a controlled substance that is only available with a prescription. It is rare for doctors in the UK to prescribe any cannabis-based products. As CBD doesn't get you high, there are no restrictions to using it when you are driving, for example.
The legality of CBD oil depends on many factors. This is why it is important to only purchase CBD oil from a reputable source. CBD One provide peace of mind that you are buying exceptionally high-quality, legal products. We always verify our products with a certificate of analysis, which means you can see the confirmed contents.
Can You Drive After Taking CBD Oil?
Because CBD is derived from the cannabis plant, there's still a large number of people who believe that driving after taking CBD oil would be akin to driving while under the influence.
However, the "high" that we associate with recreational cannabis use actually comes from THC, which is a psychoactive compound, whereas CBD is non-psychoactive.
THC is the compound that is illegal under the Misuse of Drugs act, so provided your CBD oil meets the legal requirement of containing less than 1mg of THC then it is perfectly safe to drive after using CBD oil.
What About Travelling With CBD Oil?
Some countries treat all varieties of cannabis-based products as a banned substance, so it's worth checking before you travel. As research into CBD is ongoing, legislation is working hard to keep up. If you plan to travel with CBD oil, check the country you are travelling to permits it, and also that any countries you pass through in transit.
CBD is banned in China and Russia, and in places like Malta, it is only permitted with a prescription. In the US, rules vary by state, so you should always check before you travel.
The UK's cannabis laws are more relaxed, and as long as your CBD oil products contain less than 1mg of THC per container, they are legal to take with you when you travel within the UK, as well as to most other European countries.
CBD Oil for Sale
When it comes to buying CBD oil in the UK, there are a few things to consider. The quality of the product, the price, and the company you buy from.
CBD One is a UK-based company that offers high-quality, legal CBD oil products. We offer a wide range of CBD oil products, including capsules, and topicals.
Our CBD oil is made from high-quality cannabis plants that are grown in organic conditions. We carefully extract our CBD oil using supercritical CO2 extraction, which means that our products are 100% pure and potent.
We sell our products as food supplements, and our CBD oil is completely legal to buy and consume in the UK.
If you're looking for a high-quality, legal CBD oil product, then CBD One is the perfect choice for you.
The Bottom Line
CBD oil is legal in the UK, provided it is registered as a Novel Food with the Food Standards Agency, is made from an approved strain of hemp, and the finished product contains less than 1mg of THC.
Any reputable CBD brand should be able to provide you with all of this information, with lab reports to verify the product contains the correct levels of each cannabinoid compound, and you should be wary of anyone that isn't happy to show you this information.
The CBD industry has seen many changes over the last few years, and it's good to see the regulations are finally catching up to put in place rules and guidelines that will help to keep consumers safe.
If you still have questions about CBD, please feel free to get in touch with me and I'll do my best to answer your questions as quickly as possible.
FAQs
When Was CBD Oil Legal in UK?
CBD oil has been legal in the UK since 2018 when the parliament passed legislation that removed it from the Misuse of Drugs Act. The government legalized CBD oil, as well as other cannabinoids such as CBDa and CBG. However, THC is still considered a controlled substance. Hemp-derived CBD oil that contains less than 0.2% THC is legal to purchase and consume in the UK.
Will CBD Oil Show Up on a Drug Test?
If you are taking a CBD product that contains less than 0.2% THC, then it is highly unlikely that it will show up on a drug test. However, if you are taking a product that contains higher levels of THC, then there is a chance it could show up on a drug test. If you are concerned about this, please speak to your employer or the drug testing company before taking CBD oil.
Why Do People Take CBD Oil UK?
People take CBD oil for a variety of reasons. Some people take it to help with certain medical conditions, while others take it for general wellness. CBD oil has been shown to help with chronic pain, anxiety, and sleep disorders. It is also being studied for its potential benefits for heart health, cancer, and other health issues.
Is CBD Oil Good for Anxiety UK?
CBD oil has been shown to help with anxiety in several studies. One study showed that CBD oil was able to reduce anxiety in people with social anxiety disorder. Another study showed that CBD oil was able to reduce anxiety and improve sleep in people with post-traumatic stress disorder.
CBD oil may also be helpful for other types of anxiety, such as general anxiety disorder and panic disorder.
Is CBD Flower Legal in the UK 2022?
No, CBD flowers are not legal in the UK. This is because they come from part of the hemp plant that is still considered a controlled substance. Although they contain very low levels of THC, they are not legal to sell or purchase in the UK.
How Big Is the CBD Market in the UK?
The CBD market in the UK is growing rapidly. As of today, the UK CBD market is worth an estimated £700 million. This is expected to grow to £1 billion by 2025. This growth is being driven by the increasing awareness of the potential health benefits of CBD, as well as the legalization of CBD oil in 2018.
How Much Is a Cannabis Plant Worth in the UK?
A cannabis plant is worth around £12,600 in the UK. This is based on the current market price for cannabis flowers, which is £10-£15 per gram. The value of the leaves is also taken into consideration, as they are often valued at £5 per gram.